The influx of legal, synthetic forms of cannabis that can be more potent and dangerous than the natural, illegal drug exposes Britain's "utterly ridiculous" cannabis laws, it has been claimed.
Damaging new synthetic forms of the drug accounted for nearly a quarter of all new legal highs identified in Europe in 2013.
Last year, 29 new forms of "synthetic cannabinoids" were identified, out of 81 total new substances.
In 2012, 30 new forms of it were identified out of a total of 73 new legal highs.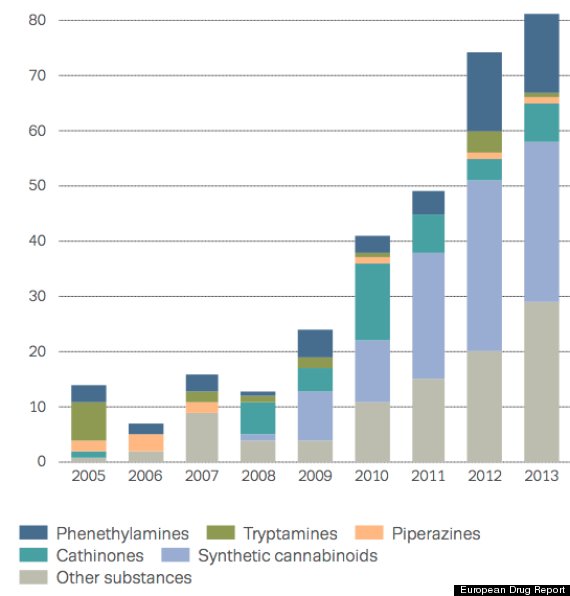 Synthetic forms of cannabis account for a sizeable fraction of new legal highs identified each year
The synthetic drugs can be more potent than their natural counterpart, as well as being mixed with chemicals that cause side effects.
In one case earlier this month, two teenagers were admitted to hospital after taking synthetic cannabis.
Steve Rolles, senior policy analyst at the charity Transform that campaigns for drug law reform, told The Huffington Post UK that having a more dangerous, legal version of the drug meant Britain's drug policy was "the worst of all worlds".
He told The Huffington Post UK: "Synthetic cannabis might be the straw that breaks the camel's back in terms of cannabis reform.
"We currently have an unbelievably stupid situation where people can buy fake cannabis that's more dangerous. It's utterly ridiculous.